Softonium Developments

Softonium Developments, the creator of Find my Font is a software company founded in 2008 by software experts specializing in the signmaking and graphic design industries.
Our goal is to make powerful and easy-to-use applications for home and professionals users.
Our team's past project experiences include font designing, sign-making, raster image processing and OCR software. We use our combined knowledge and experience to develop superior solutions - technology that capitalizes on modern applications that easily fit our customers' IT requirements. We strive to provide an end user experience that requires little ramp up time and works the way our users work.
Find my Font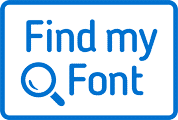 We have noticed the void in the font market for a reliable, fast and accurate personal font identification software application. We provided several solutions for our customers in the past but decided that a professional main-stream tool was needed for everyone who wants to match fonts in an image to fonts located on his/her computer. Thus came the creation of Find my Font.
More information