30-day trial edition download
Find my Font is available for download in a Free 30-Day Trial edition.
You can freely download and install a trial on your computer for evaluation. Learn more
To see a comparison of the available editions (Free vs Pro vs Mobile) click here.
---
Find my Font™ - FREE (version 3.4)
An easy to use application for identifying fonts in bitmap images and matching them online and against fonts installed or located on your computer.
Internet* and local search
Match fonts in any image file
Extremely fast matching
Font Browsing by similarity
Advanced Image manipulation
Smart Letter selection
Isolate Script letters
Horizontalize text
Unicode support
Install the matched font
English, Spanish, French, German, Portuguese, Italian, Dutch and Greek interface
Available for both Windows and Mac OS
* Internet search requires an internet connection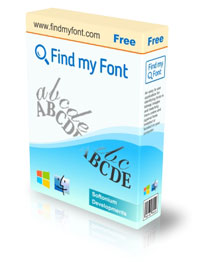 Find my Font Free - Invalid OS
Find my Font is not available for this device.
It can only run on Desktop PCs with Windows or Mac OS X operating systems.
Information about the 30 Day Trial edition
You can freely download and install this edition on your computer for evaluation. This way you may try our product before you purchase. You can evaluate the program during a trial period of 30 days after the installation without any cost or obligation. When the trial period ends, the product will stop functioning. The free trial edition has some functional limitations. Click here to see the differences from the commercial edition.
Payment is required if you wish to continue using the software after the trial period. To purchase the product, see here.