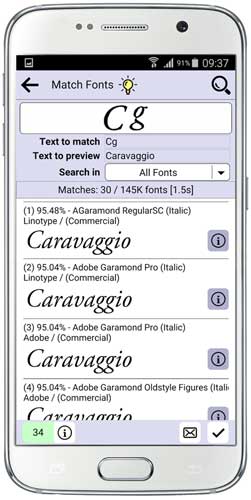 Seven years ago we created the Find my Font application which runs on your Mac or Windows PC and identifies the fonts in an image by searching at the same time, the fonts located on your computer and the fonts available on the internet.
Keeping up with the times and user requests, today we released the Find my Font mobile edition which runs on iPhones/iPads or Android devices.
We tried to pack all the functionality and features of the desktop edition in the mobile application while at the same time making it simple to use with a few finger taps.
The advantage of the mobile edition is that, well ... it's mobile!
Ahhh and let's not forget that you can use your device's camera to capture the images while on the go.
The basic operation is simple and follows the desktop edition guidelines:
Open a gallery image or use your camera to capture an image
Tap to select a few letters
Type these letters and hit the search button
The identified font and a list of similar fonts are shown on your screen
You may freely download and install the Find my Font mobile application on you iOS or Android device and start identifying fonts on the go.
The main features you get include:
Identify Free and Commercial fonts.
Our huge font database contains more than 150.000 fonts and gets updated monthly.
Rotation, Deformation fix, Perspective correction
These tools give you the ability to identify fonts in any image no matter the angle it was taken in
Manual letter selection
Use a simple finger tap to select the letters of the font you need to identify
Isolate Script letters
Use your finger to specify the boudaries of connected letters
Use the power of your phone or tablet to match fonts on the street, at work or just for fun.