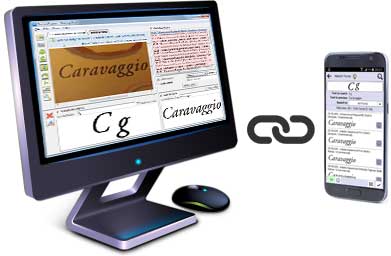 About a month ago we released the Find my Font mobile edition which runs on iPhones/iPads or Android devices.
It's free to download and install on your mobile device but the usage is limited to a few identification requests per day plus an additional 30 on first installation.
You may purchase additional identification requests packs for a small fee starting at $0.99. If you want to have unlimited font requests, you would have to buy the unlimited pack which costs considerably more.
Here are the good news for owners of the Find my Font Pro edition.
You can connect your Pro account with your mobile device and get unlimited font identifications on it.
Here's what you need to do to connect your Pro account with your mobile device:
Install the Find my Font mobile app on your smartphone or tablet. For more info Click here.
Open the Find my Font mobile application, go to the About screen and locate your device's App id

Download and install the latest edition of Find my Font Pro. The functionality to connect the mobile with the desktop edition was added in version 3.3.15. You may download the latest version by clicking on Help > Check for updates. Alternatively you can use the Product Update page on our web site.
Start the Find my Font Pro application on your PC and click on Help > Find my Font mobile. Enter the App Id in the corresponding field

Click on the Connect button. The mobile application will now be granted unlimited font id requests.
To verify the connection, restart the mobile application and look at the remaining request counter. It should display a yellow star instead of a number

Please note that the above procedure assumes that there is an internet connection available on the PC that's running the Find my Font Pro application.