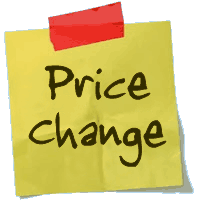 We hope you are enjoying the benefits of Find my Font. Our vision has always been to offer a great product and services at the best price, and we're committed to delivering tangible value on a consistent basis.
We are writing to you to inform you about an upcoming price change. Before we give you the details, we'd like to give you some background and the rationale behind the price change.
Our pricing has remained constant since 2012. We have continued to make significant investments in server infrastructure, monitoring systems and resources to deliver the best experience to our customers.
We have been consistently adding a number of valuable features and ramping up sever performance and our support services. We had a busy release calendar in 2014, with a new release out already and another coming soon. We had a major font database upgrade and migrated to new more powerfull servers to provide exceptional font matching speeds.
We always put our customers first and that will be our motto forever.
We've done our best to deliver advanced capabilities to our customers at the current price. If we continue to operate at the existing price point, it will lead to a compromise in your experience. That is unacceptable to us!
Increasing the price will help us run full steam ahead and enhance customer experience. We have never gone the route of "cutting corners" and we are not about to start now. Therefore we have decided to bite the bullet and increase the price.
New Pricing details
Current Price:
$39.00

until Nov 30, 2014

New price:
$49.00

(Volume discounts available)

starting Dec 1, 2014
We believe that Find my Font offers exceptional value and hope you'll continue to enjoy the benefits of our product and services at the new price. We really appreciate your business.