Daniel Britton created the "Dyslexic Typeface" while studying at The London College of Communication. A graphic designer diagnosed as dyslexic and realising that his friends and teachers couldn't appreciate what it meant, he is now using his creative talents to create greater awareness and empathy for those with dyslexia.




To do this he created a font in which he removed about half of each letter and made it intentionally difficult to read. The font isn't meant to recreate the exact experience of having dyslexia; rather, it's intended to show the reader what it feels like -- the extra effort it requires and the frustration you feel as it slows you down.




"What this typeface does is break down the reading time of a non-dyslexic down to the speed of a dyslexic. I wanted to make non-dyslexic people understand what it is like to read with the condition and to recreate the frustration and embarrassment of reading everyday text and then in turn to create a better understanding of the condition," Britton explains on his website.

The International Dyslexia Foundation states that between 15% and 20% of the population have a language-based learning disability, dyslexia being the most common of these. The United States Department of Health and Human Services estimates that 15% of the U.S. population has dyslexia.
Dyslexia is "a learning difficulty that primarily affects the skills involved in accurate and fluent word reading and spelling". People are affected differently; some have problems processing language while others struggle to process visual information.

Try reading the following text, written in the font Britton designed and have a small taste of what it feels like to be dyslexic.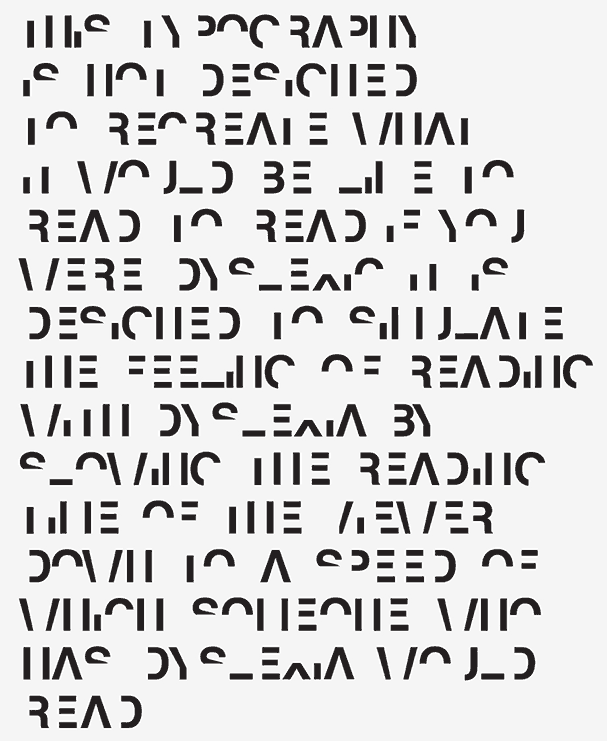 .

The font can't be downloaded for use yet, but Britton has started a Crowdfunder campaign to create "dyslexia awareness packs" that can be used by schools. The packs will be sent to schools around the world that want to use the typeface. He wants to raise 2,000 British pounds (about $3,163.60) to cover production and shipping costs until revenues make the project self-sustaining.