Details

Created: February 10, 2015
Written by Harris Kisseoglou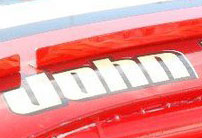 Last week we had a request on our Forum to help identify the font used in a complex (deformed) image.
Although Jim has been using Find my Font for quite some time now, he couldn't figure out how to identify the font in the following image.
This post serves as a tutorial on how to use the Image Correction and Deformation tool to prepare the complex image for proper letter selection and font identification.